Unlimited Ways to Use It!
The Go! Towel is perfect for lots of people and things…from luxury hotels to housewares in hardware and everywhere in between, the Go! Towel can go wherever you go.
Skin and Beauty
The Go! Towel is a perfect addition to any beauty and skincare regimen.
Emmy winning and celebrity make-up artist KJ Bennett says of the Go! Towel, "Go! Towels are so smart for your makeup kit and on-set bag."
The luxury, all natural skincare line JURLIQUE uses the towels both in their day spas and for introducing new products to their customers. It is fast becoming a favorite among estheticians for all sorts of beauty treatments.
In Bobbi Brown's latest book BOBBI BROWN BEAUTY RULES she suggests, "Clean your face instantly after working out. Bring a towel, soak it in water, and wipe sweat off your face."  The Go!Towel fits that bill perfectly! Even a ten-pack fits into any gym bag or tote.
For those curly girls out there, the towels are used in several DEVA CURL authorized salons because they are the perfect towel to use on curly hair without creating frizz.  I swear by them myself.
For children and adults who suffer from ECZEMA, the towels are super soft on sensitive skin and for people undergoing RADIATION THERAPY the towels can be used in conjunction with the recommended care for your skin during treatment.
Festivals and Concerts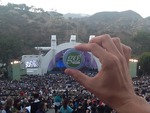 The Go! Towel is the perfect item to take with you to all of your outdoor events and concerts. Stay cool and clean wherever you are.
A/C on the Go!
With the Go! Towel you'll stay cool and refreshed.  It's like instant air-conditioning for when you're on the Go!
In heat and humidity, the natural cooling properties of the bamboo fiber will keep you feeling cool and refreshed as long as the towel is moist. As it dries, it won't trap your body heat or get warm and soggy like a regular towel.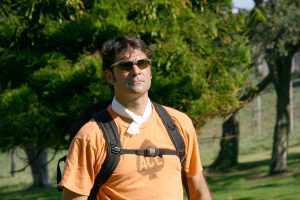 Wearing it around your neck or on your wrists at your pulse points will help keep you cool.
Bike to Work
With bike commuters, bike share programs and bike rentals all over the world, the Go! Towel is the perfect companion for anyone who's out pedaling around and needs a quick freshening up.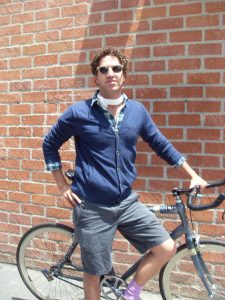 Luxe Bamboo was honored to have the Go! Towel selected by the Fairfax County, Virginia Department of Transportation to help get their message out as they hosted, along with the Metropolitan Washington Council of Governments (COG), the Washington Area Bicyclists Association (WABA), and local governments one of the nation's largest Bike to Work Day events.   Bike to Work Day is an opportunity to encourage people to think about bicycling as a commuter option. It's fun, it's healthy, and it's green!
Additional Uses
In heat and humidity – A cooling neckerchief or tie it around your head like a bandana.  The Go! Towel traps the air and cools it down. Tip: Dunk the Go! Towel in a cooler/bucket of cold water and Voila! "Instant Air Conditioning."
Travelers, Backpackers, Hikers, Cyclists (The Go! Towel weighs a 1/3 of a gram!)
Kick the paper towel habit! The Go! Towel is great in the kitchen
Disaster Relief and Emergency Kits
Military, Fire and Rescue Workers
Parents, Kids and Babies – They're practical, fun and soft
Working out, especially outside (never worry about having a towel again)
Yoga, Spinning Studios and Gym/Health Clubs
Golfers – A cooling neckerchief, for wiping down clubs and spikes or for those tears
Eco Weddings – A fun wedding favor for guests
Gardeners
Bands and Musicians on Tour – Perfect for bathing on the bus and for sweaty roadies!
Construction Workers
Fishing and Gaming
Hotels and Spas – New York Times June 26, 2007
Estheticians and Make-up Artists
Airlines and Private Jets
Businesses/Organizations/Teams wanting to promote with a great, fun personalized "green" product
Outdoor Concerts and Festivals
Doctor's Offices and Health Care Practitioners
Schools – Makes for a great fundraiser (call for pricing)
New and used Go! Towels are ideal cloths as "Swiffer" replacements, for polishing, cleaning homes and cars, etc. They're soft, strong, absorbent and won't scratch surfaces.
Go! Towels can be used in a pinch as a coffee filter