Expands in 3 Tablespoons of Water.
Step 1
Peel the ring and remove the two paper labels.* Add some water on either side, dunk in a glass, or under a faucet.
Step 2
Squeeze out any excess water. It makes it easier to unfold the towel.
Step 3
Open the towel and enjoy!
Recycle
Rinse them out and reuse them, or machine wash in a mesh bag on a delicate cycle. They're biodegradable, so its safe for the environment to simply throw them away.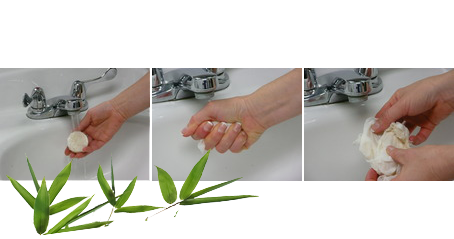 A fully saturated Go! Towel resembles a biscuit, and when completely opened it measures an amazing 12″ x 20″.

The Go! Towel always dries soft and supple. It is never stiff and crunchy.
*Please recycle whenever possible.