The GO! Towel
-The World's First Eco-Friendly Towel That Fits In the Palm of Your Hand-
A 100% pure bamboo fiber, eco-friendly, biodegradable "pop-up" towel compressed to the size of a poker-chip. Just add 3 tablespoons of water and this multi-purpose towel miraculously unfolds to 12 x 20 inches.
OEKO-TEX® Certified, it is organically grown, unbleached, undyed, unscented and naturally anti-bacterial. It's strong, absorbent, and gentle on your skin.
When it's dry it is super soft, and you can use it over and over again. Just hand rinse in hot water and air dry. It's also machine washable if placed in a fine mesh washable bag.
Use Anywhere - For Anything
- A Multi-Purpose Eco-Friendly Miracle -
Unlimited Applications
Ideal for travel, sports, bathing and skin cleansing, housecleaning, cooling off for you or your pets
Small and Compact
Its small size means it can GO everywhere with you in a pocket, backpack, handbag, lunchbox, etc.

Eco-Friendly
It is organically grown, unbleached, undyed, unscented, and biodegradable and can be composted
Recyclable
Go! Towels can be hand rinsed and air dried to be used over and over again, and are machine washable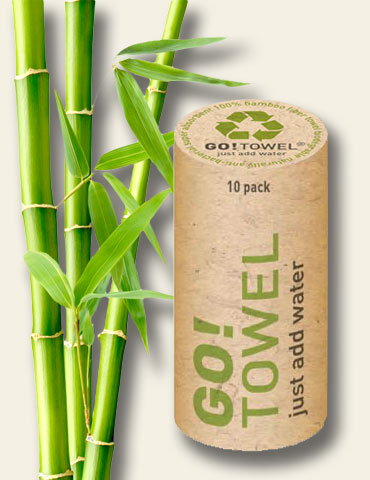 10 Pack Special!
The Go Towel 10-Pack
The Go! Towel is sold in packs of 10 and each towel is individually wrapped. Bulk orders are also available. FREE SHIPPING WITHIN THE U.S.
$20.00 Add to cart
Go! Towels are so smart!
Go! Towels are so smart for your makeup kit and on-set bag. I'm definitely adding them to inmykit.com
I keep coming back for more!
I've been using your towels at the gym, after spin class and when traveling. I particularly love using them for washing my face. I prefer their feel compared to regular towels. A mini came in handy on the subway a few months back: a dad & son got into a sticky situation (spilled soda) and I offered one & my bottle of water. Disaster averted! The little boy thought it was magic :-). You know you've got a solid product.
Best Product I Have Personally Used!
As a pharmacist for many years I have seen many new items that have been presented to me and personally have used, and I must say this is the best. This towel has made my walking exercise more comfortable and I am able to use it at least 15 times before starting a new one.
I Love These Towels!
I love these towels and wish I could buy them in the aisle at the market! They are so convenient you can use them for endless things. Once we were traveling and used all the coffee filters in the hotel room but and wanted to make more coffee so we used a go towel because I don't go anywhere without these little gems!
Smiling the Whole Way!
I was recently driving through the deserts of Arizona and New Mexico where I couldn't have my air conditioner on, so I tied these around my wrists and one around my neck, rolled down my windows and smiled the whole way...
I Use Them for Everything!
These towels are really great. I use them for everything. Say goodbye to their paper cousins
Soft and Incredibly Useful!
Little did I know when I first used the Go! Towel in Italy and discovered it's softness how incredibly useful it would be after my cancer surgery and radiation treatment. Its gentleness was the only thing my skin could tolerate for washing and I recommended it to my doctor.
Our Customers Love the Eco-Friendly Go! Towel!
Blissmo was thrilled to introduce The Go! Towel to our Blissmo community. Our selective customers look for quality, all natural products and they loved the eco-friendly Go! Towels - many buying multiple units.
The Go! Towel is a popular item with our customers . We have 5 buckets throughout our very large store and they sell consistently well for us.
I love the Go Towel!
Finally an amazing eco, environmentally friendly towel that is luxurious yet totally affordable. Everyone should get and use the Go Towel! I use it in the kitchen, to polish things, to keep things clean there are thousands of uses and to think I am saving my health, community, the environment and the World. Well that is just the way to GO TOWEL!
Thanks for Saving My Life!
I was out mountain biking when I crashed and broke my collarbone. I was alone and a mile in. Then I had a MacGyver moment… I remembered I had the towels with me. I tied two of them together along with my bandana, made a sling and walked out. I'll never ride without them.